Fall is in the air here in Edmonds.  After an unusually warm summer it's time to get into the fall routines. I'm working on that for sure.
I have done lots of odds and ends of sewing here but really haven't had the inclination to post much. I'm looking forward however to some updates here and continue to make a record of my finishes.  I've got lots of plans for the fall so we'll see how I do.
One of my finishes this summer has been a second baby quilt. This is for the friend of daughter #2 who is expecting her daughter #2. When I started this I really only expected to test the block idea and size but after I had finished several of the blocks I decided that I really like it and it would be perfect for this new baby. I did struggle with the binding for a bit but finally settled on this green stripe. At first after it was done I thought I had made a mistake because it's so much bolder than I had anticipated but I do think I like it and it does go with the fabrics.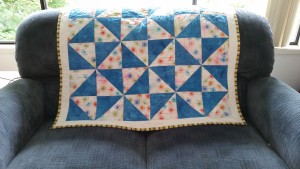 As I was searching for this picture I also found many others.
Another project from earlier in the summer was another pillowcase. This was also for a Girl Scout friend.