Oh baby baby gift… I love to make baby gifts but it's so hard to make a decision.  There are so many useful little things for babies like blankets, hooded towels, clothes, booties, bags, spit rags and more.  I had to narrow my list this time because there wasn't too much time.  Just a few days in fact.  This time I decided to make some bibs and a tag blanket.  Of course this certainly involves come choices as well.  What size bibs, what kind of fabric, what type of bib and what should I put on the back.  These were all for a little girl with a modern mama.  I decided that really, these bibs would get spilled on and slobbered on and were really for protecting the clothes so although I wanted them to look cute function was the primary purpose and even a modern mama would know that.  This allowed me to do some experimenting.  This is the first bib.  A small bib for a little girl with a bunny on the front.  The small size could be used for a small child and would be cute and functional.
The next bib is a larger bib with a wider front.  This bib I backed with minky which is a polyester fabric and should allow some moisture protection for the clothing underneath.  I've never thought of using minky for the back of a bib.  It actually worked better than I expected and is quite soft.  I wonder how mama will like this one?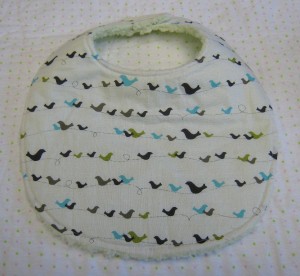 This last bib is cute in an entirely different sort of way.  It's more like a baby apron.  I know that mama likes gray and it also lets me use a bit of color so this one too is cute and should be quite functional because it covers the baby lower front and lap.  I lined this one with flannel so it is soft and shapes easily to the baby shape.  Oh this was a fun baby baby gift!